In our publications, mental health is an important topic that we value to support our athletes and motivate those who follow us. We believe the stories behind athletes or sports teams create a tremendous amount of inspiration and hope, and who doesn't need some nowadays?
This time we will share an intense, emotional and motivational testimonial from our Dutch ambassador Nienke Oostra.  


Among her accomplishments, there's the World First Traverse on a mountain bike from West to East Nepal over the Great Himalaya Trail High Route in 2019 (1800 km). She has represented the Netherlands at world championship events as an elite athlete in Mountain Bike Marathon (XCM) and XTERRA.
Be inspired by her words, and don't let what has happened to you define who you want to be. 
NIENKE OOSTRA - SPORT AS AN OUTLET & A WAY OF LIVING
I live in the beautiful French Alps. I love adventuring, exploring nature and also writing about what I do. I am an endurance athlete involved in multiple sports, including adventure races, trail running, mountain biking, alpinism, ski alpinism, rock climbing, road cycling, and swimming.
I have been called "atypical" on many different occasions, in a way that I seem not to let previously bad experiences stop me from moving forward or trying something again. I believe this comes from seeing all kinds of darkness in my childhood. As a child, I was exposed to all sorts of abuses. I could not control or change what other people did to me as a child, and even now, I can not control what people think of me as an adult.

Going on adventures outdoors, venturing out in nature, gives me a freedom that nobody could take away from me. Running up a mountain to see a beautiful sunrise would fill me with happiness, regardless of what sadness I faced at the time. It was a feeling I could control. That feeling of joy would free me of the sensation of being trapped in an existence I did not want and gave me the confidence to believe that I always had a choice. I intended to live life and not be a victim of circumstances I could not control.
Sport Is my life, and I have managed to make it work with my move to the French Alps, which has always been my dream. I am a veterinarian, and I work now for an online company as a consultant, so I work from home. I often work in the evening, and it allows me to dedicate the daytime to train/explore, and to all my friends, who love the mountains and the outdoors and sport.
Sports, adventure, racing and especially endurance events/challenges are ways for me to silence my thoughts, be solely in the moment, focus on one step at a time, and continue to move forward. Things become so simple for me in that process, and it makes me feel at peace. My love for nature and the outdoors is my intrinsic motivator. I love being active and the outdoors, so I do not need much motivation to train. I always feel better after having been outside.
CONTROL OVER YOUR BODY - CONTROL OVER YOUR THOUGHTS
Depending on what races or challenges I have coming up, I focus on one sport more than the other. In Summer I train around 20-25 hours from road cycling, trail running, mountaineering (currently on a mission to do all 4000m peaks in Europe), mountain biking and swimming. In Autumn and Spring, I rock climb as well. During the springtime, I take part in ski mountaineering adventures. In winter, I concentrate on ski alpinism training for events. I run three times a week, and I do some turbo sets on the home trainer. 

Trying to push my limits on whatever level that might be, shows me how powerful my body is, what an incredible tool it is and that I am in control of it, which feels liberating. 

Why Hammer?
Nutrition is a big part of training. As an endurance athlete, I am always looking for the best nutrition like Hammer to represent that. I used Recoverite at the beginning of my Nepal trip when I was ill and could not eat anything. I have used Hammer Energy Bars all during my Nepal traverse. I have used HEED as an energy drink during races at a higher intensity. I often have stomach issues, but I do not seem to have any with Hammer.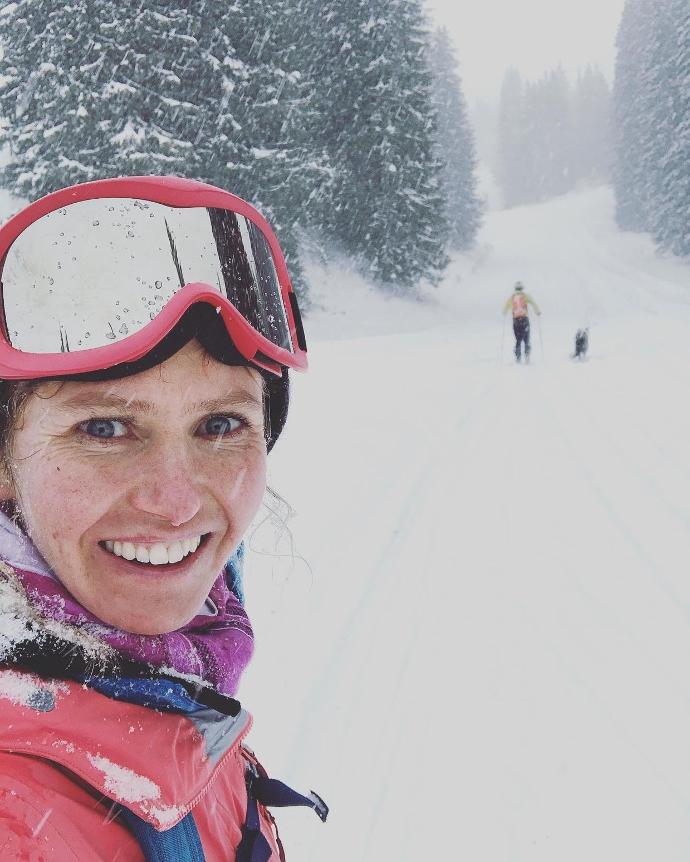 The only limitations you have are the limitations you put on yourself. Do not let anyone label you, not even with big fancy diagnostic names. It is not what defines you. Take one small step forward at a time; how slow that might be. As long as you are moving forward, no matter how fast, you leave the hard times behind you and head towards something better, even if you do not know what that might be.
"It's impossible", said pride.
"It's risky", said experience.
"it's pointless", said reason.
"Give it a try", whispered the heart!